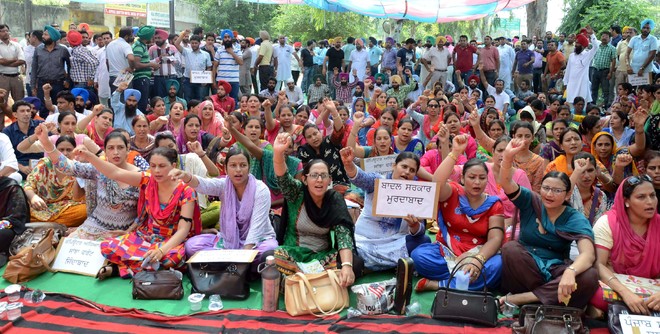 Computer Adhyapak Sanjha Front (CASF) took out a rally protesting against the state government demanding that the teachers be shifted to the Education Department of the state.
The protesters said they had not been receiving regular salaries since they 2011, when they were regularised under the Punjab ICT Education Society. Over 2,500 teachers from across the state marched from Mini-Secretariat to Fountain Chowk raising slogans against the state government.
"There are over 7,000 computer teachers working in government schools in the state. We never receive salaries on time regularly," said Baljinder Singh Fatehpur, state president of the organisation. He said in the times when the country was emerging as IT superpower, computer staff in schools had to struggle for a living.
"We had to struggle for years before we were finally regularised in 2011, but now we have not been receiving salaries on time," he added.
"It seems the government has become indifferent to our plight. Only we know how we manage our living expenses, take care of our families and raise our children," said a computer teacher. "Computer teachers working in government schools should be brought directly under the Punjab State Education Department, rather than receiving salaries from the grant given to the Punjab ICT Educational Society by the state government," he said. The government is already paying the salaries through the society, but we just want these to be paid directly by the government, rather than through the society as a grant, he added.
Amandeep Kaur from Government Senior Secondary School, Ropar, said all computer teachers were well qualified having postgraduate degrees in computer science and IT. "In the times when IT professionals are highly-paid and respected in the industry, we teachers are being treated by the government in such dismal manner," rued another computer teacher.
Another female teacher coming from Moga said: "The way the state government is treating teachers in the state is going to tarnish the respect and reputation of their profession, and make them lose self esteem. The next generation would never think of becoming a teacher, if it teachers are treated by the government like this."